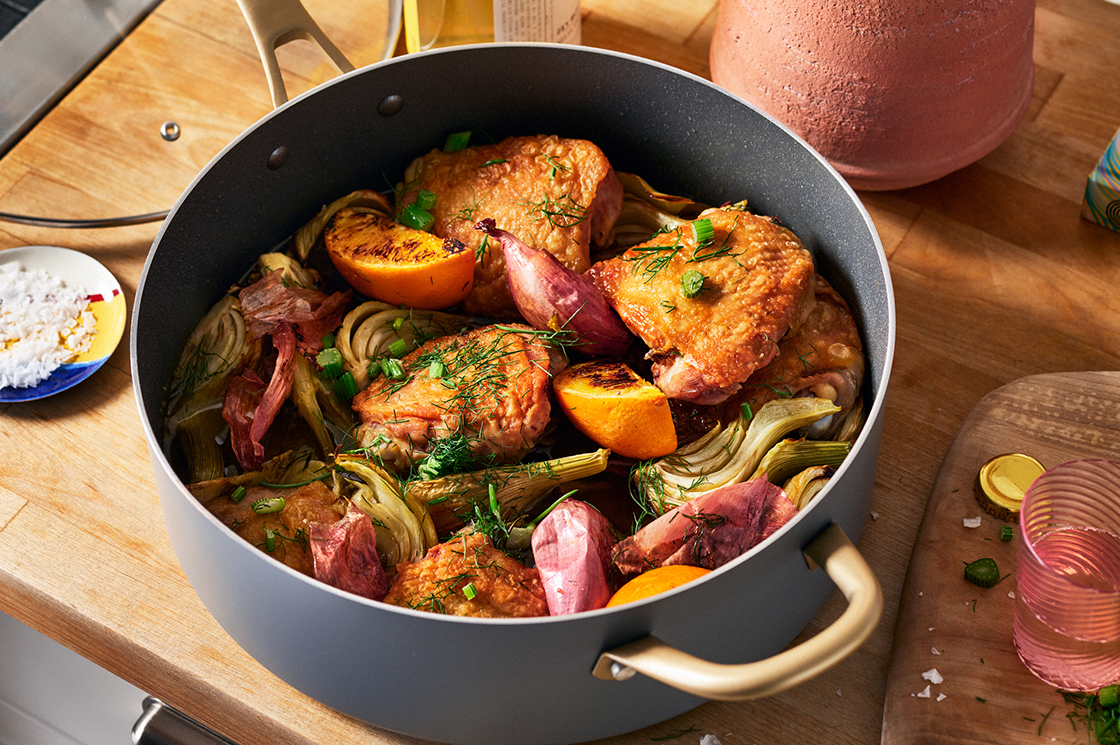 Recipes
Chicken Thighs with Fennel and Shallots
Prep time: 15 minutes
Cook time: 40 minutes
Serves: 4
Ingredients
1 1/2 pounds (about 4) bone-in, skin-on chicken thighs
Kosher salt and freshly ground black pepper
2 tablespoons olive oil
1 bulb fennel with fronds attached, cut into 1-inch wedges, reserve the fronds for serving
4 shallots, peeled and halved lengthwise
4 cloves garlic, crushed
1 medium orange, cut into 1-½ inch wedges
1 cup low-sodium chicken broth
Method
Pat chicken thighs dry with paper towels and season with salt and pepper on both sides.
Heat olive oil in the Beautiful 7QT Jumbo Cooker over medium heat. Cook chicken thighs, skin-side down until the skin are golden brown, 10 to 12 minutes. Flip chicken thighs and cook flesh side until opaque, 2 to 3 minutes. Transfer chicken thighs to a plate. Set aside. Drain pan of most of the rendered chicken fat, reserving about 3 tablespoons in the pan.
Return pan to medium-high heat and add fennel wedges, shallots, garlic and orange, cook, stirring occasionally until vegetables are lightly golden on the edges, 3 to 4 minutes. Season with salt and pepper.
Nestle chicken thighs, skin-side up, amongst the vegetables, add the chicken broth and bring to a boil. Reduce heat to low and simmer until chicken thighs are cooked through and vegetables are fork-tender, 18 to 20 minutes.