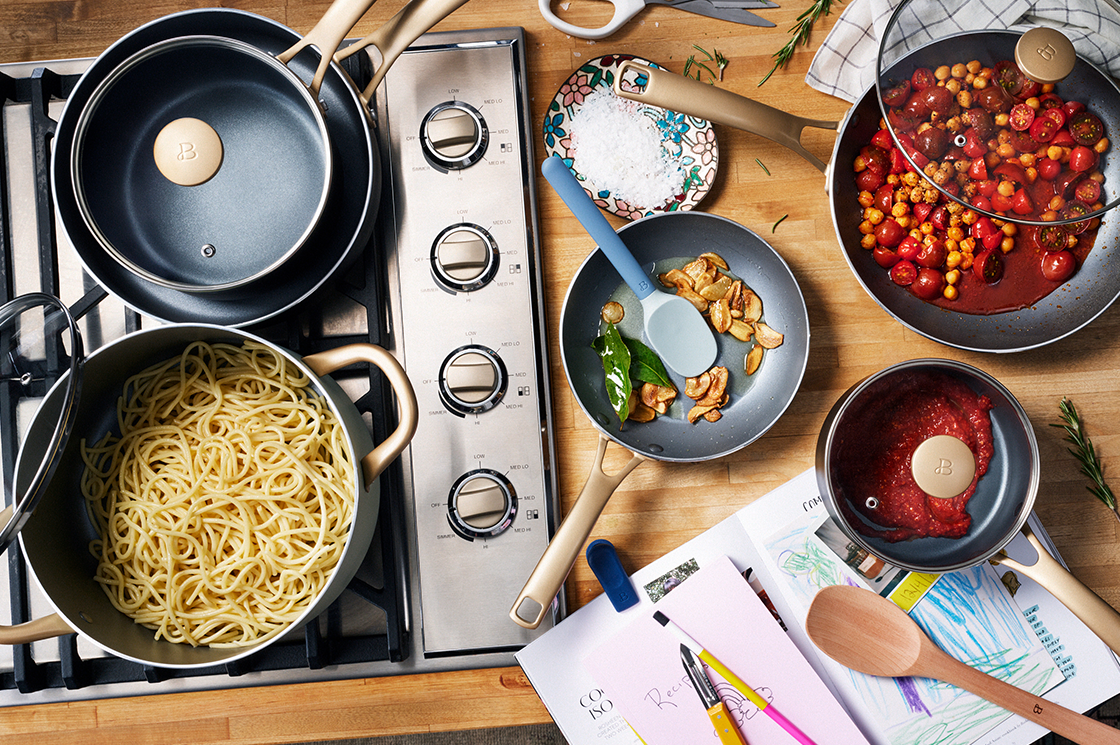 Recipes
Chickpea and Tomato Pasta
Prep time: 15 minutes
Cook time: 25 minutes
Serves: 4
Ingredients
6 tablespoons olive oil, divided
4 cloves garlic, thinly sliced
1 bay leaf
1 pound spaghetti
Kosher salt
1 pint cherry tomatoes, halved
1 14.5-ounce can chickpeas, drained and rinsed
2 tablespoons harissa
Method
Combine 4 tablespoons olive oil, garlic, and bay leaf in the Beautiful 8" Fry Pan and cook over medium heat, stirring frequently, until garlic chips are golden brown. Set aside for serving.
Bring a large pot of water to a boil using the Beautiful 6QT Dutch Oven, season with salt, and add spaghetti. Cook spaghetti, stirring occasionally, until al dente, 8 to 9 minutes. Reserve 1 cup pasta cooking water and drain spaghetti.
While paste is cooking, heat remaining olive oil in the Beautiful 12" Fry Pan over medium heat. Add tomatoes and cook, stirring frequently, until some tomatoes are bursting, 4 to 5 minutes.
Add chickpeas and harissa and cook until chickpeas are softened, stirring occasionally, 3 to 4 minutes. Transfer spaghetti into pan with chickpea mixture, add ½ cup pasta cooking water and keep tossing and cooking until spaghetti is glossy and coated in sauce.
Serve pasta with reserved garlic chips.