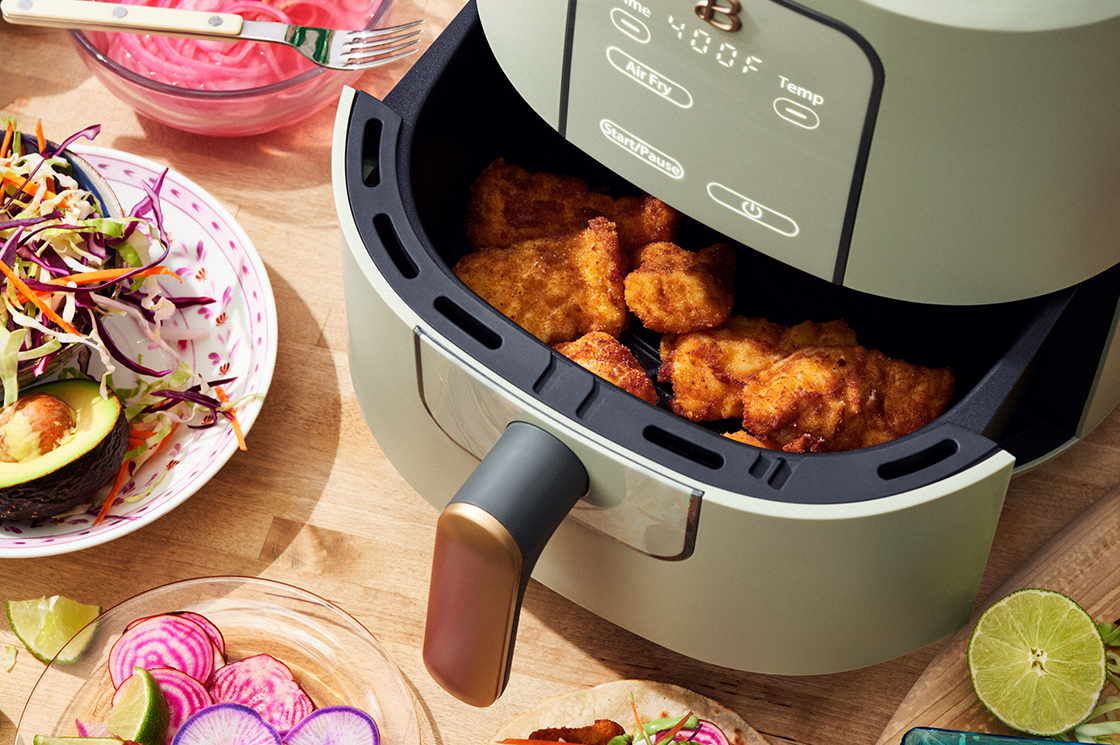 Recipes
Fish Tacos with Cabbage Slaw and Pickled Onions
Prep time: 60 minutes
Cook time: 20 minutes
Serves: 4-6
Ingredients
For the air-fried fish:
1 cup all-purpose flour
2 eggs
1½ cups breadcrumbs
1½ pounds cod, cut into 1-inch by 3-inch strips
Kosher salt and freshly ground black pepper
For the cabbage slaw
¼ small purple cabbage, thinly sliced
¼ small green cabbage, thinly sliced
1 small jalapeno, thinly sliced
3 tablespoons lime juice
2 tablespoons mayonnaise
Kosher salt and freshly ground black pepper
For the pickled onions:
½ cup distilled white vinegar
2 tablespoons sugar
Kosher salt
1 small red onion, thinly sliced
Corn tortillas, for serving
Sliced radishes, for serving
Lime wedges, for serving
Method
For the fish: Preheat Air Fryer to 400°F.
Place flour in a large Beautiful mixing bowl, lightly beat eggs in a separate large bowl, and place breadcrumbs in a separate large bowl and season with salt.
Season fish with salt and pepper. Working with one or two pieces at a time, coat fish in flour, dust off excess, dip in egg wash, drip off excess, and coat in breadcrumbs.
Transfer coated fish into basket of the Beautiful 6QT Digital Air Fryer and cook until golden brown on all sides and cooked through, 14 to 18 minutes, turning once.
For the slaw: Toss red and green cabbage and lime with lime juice and mayonnaise and season with salt and pepper. Set aside.
For the pickles: Combine vinegar with sugar, 1 teaspoon kosher salt, and 1/2 cup water in a small pot and bring to a simmer, stir to melt sugar. Place onions in a heat-proof bowl and pour vinegar mixture over onions and allow to cool before serving.
Serve fish tacos with warm tortillas, cabbage slaw, pickled onions, and lime wedges.