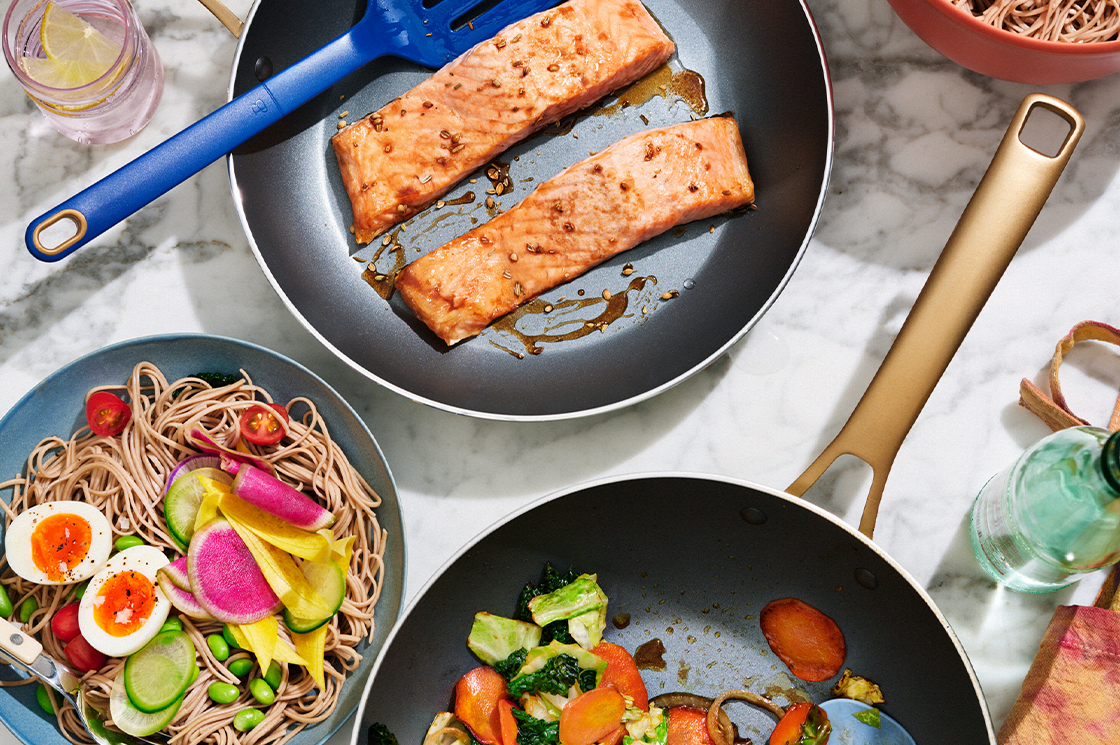 Recipes
Salmon and Soba Noodles with Sesame-Ginger Dressing
Prep time: 15 minutes
Cook time: 20 minutes
Serves: 2
Ingredients
For the soba:
8 ounces soba noodles
1 tablespoon sesame oil, divided
For the salmon:
2 6 ounce fillets boneless, skin-on salmon
Kosher salt and freshly ground black pepper
1 tablespoon vegetable oil
For the sauce:
1 tablespoon grated ginger
1 tablespoon lime juice
2 tablespoons soy sauce
1 tablespoon sesame oil
Pinch sugar
Soft-boiled eggs and sliced radishes for serving
Method
Cook soba noodles according to package instructions, drain and rinse with cold water. Drain noodles thoroughly and toss with 1 tablespoon sesame oil. Set aside.
Season salmon with salt and pepper. Heat vegetable oil in the Beautiful 11" Fry Pan over medium-high heat. Add salmon, skin-side down, and cook until the skin is crisp and golden brown, 4 to 5 minute. Flip and cook until salmon is cooked through and opaque, another 2 to 3 minutes.
For the sauce, whisk together ginger, lime juice, soy sauce, sesame oil, and sugar in a small bowl.
For serving: Divide soba noodles in separate bowls, top with flaked salmon, eggs, radishes, and serve with sesame-ginger dressing.